(Click on images to view larger in new window)
Skys Blue Star and Lyndsey Tait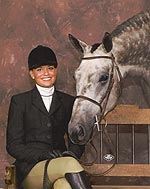 When I first saw Skys Blue Star a.k.a. "Sky" he was just a hairy yearling that resembled a mule. But I was only thirteen and thought he was the most gorgeous thing I had ever seen. My trainers, Anne and Mitch Leonarski, had been looking for a young hunt seat prospect to take me into the 14-18. They thought he had a lot of potential so I had found my new horse. My only concern was that he was big enough so before we got him we measured his legs to my legs and they ended up exactly the same length.

Over that winter I broke him, yes I was the first one on him when I was only thirteen. He was just so quiet and trusted you he really wanted to please you. I fell in love with him when he was young and I would go in his stall to wake him up, but he would just lay there. I would sit on him and bother him yet he just slept. Thankfully over the years he grew into his long legs and big ears and became a gorgeous, gray, 17.2 hand beauty. His 2 and 3 year old years we had a lot of offers to buy him but I was just so attached to him and had such high dreams of what he would accomplish that I couldn't sell him. Everyone in our barn loves him to death. We call him Geoffrey the Giraffe because he's so big yet so gentle. His personality really rubs off on people. You can tell when he's confused or when he's mad (he holds grudges on people).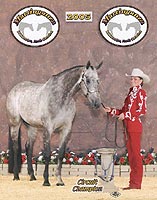 Once we mastered HUS we added Showmanship and Equitation. He loved the patterns, it seemed like no matter what we asked him to do he enjoyed it so much. On his days off I ride him over trail obstacles and just lope around, I swear if he was 2 hands smaller he would be an amazing pleasure and trail horse. He can get through lope overs and back ups better that normal sized horses can even do. I have never met a horse with a bigger heart and more willing to please than Sky.

In 2005 my trainer became pregnant and his new method of training became ponying the halter horses before I got on to ride. He was the only horse in our barn that just kept loping along as the halter horses bucked, reared and kicked at him. Since we have had him around the shows from 2002 until now he is very well known. I took him in Trail a couple of times and people gathered just to see the huge horse make his way through the pattern. We have started to take him over jumps and he is very natural at it. We are also going to add Pleasure Driving soon.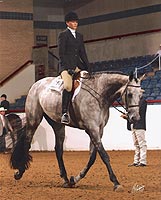 Sky is the most reliable horse I have ever shown, I know exactly what to expect and he always stays consistent. I have earned a Superior in Youth Showmanship and HUS, and we are nearing our superior in open HUS. In 2006 we started the show season late, my first show was in the middle of May. We have already accumulated numerous circuit champions in 14-18 Showmanship, HUS, Equitation, and Senior HUS. And he also qualified for the World Show in Senior HUS in only four circuits. This year we are heading to the Youth World to show in Showmanship, Equitation, and HUS where I feel like he is more ready than ever. I am very grateful to own Skys Blue Star with all he has helped me to accomplish. He is truly a horse I could never forget.

---
Wandering In The Blue and Do The Blue Written by Elizabeth Steffens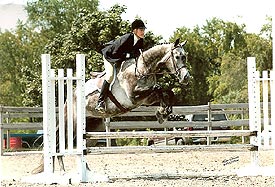 Christmas of 2000 was a very good one for me. That was the year that I received the best present ever, my horse "Madison", also known as "Wandering In The Blue". She was a dream come true. As a yearling, she was not very pretty. She was ugly reddish brown with flecks of gray. She had warts and a fat belly. Who would have known that this ugly duckling would turn into a beautiful swan.
It was love at first sight. I first started riding her a few weeks after she was broke. She was 2 and I was 10. She trusted me and I always knew she would take care of me. Before long Madison and I were showing in the HUS very successfully. We almost always place in the top 3. I was showing her in the Youth HUS, Novice HUS and Junior HUS. In no time at all, we pointed out of Novice Youth. We attained our ROM in Youth HUS and Open HUS. In that first year as a 2 year old, I was lucky enough to show her at the Congress in the 11 and Under HUS. So how many 2 year olds hunt seaters are quiet enough for a 10 year old to do that?
Our main focus is the HUS, but we have started to compete in Equitation. Madison has decided that she likes to do patterns, as long as you don't practice them first. I also think Madison has her own fan club at the horse shows. There are so many people and horse peers that look for us at the weekend shows. I've been very lucky to travel along the East Coast and meet so many great people that are willing to lend a hand. My friends appear to love Madison as much as I do.
As the years go by Madison and I have alot of fun together. We made it to the semi-finals at the Congress. We earned our Youth Superior in HUS. We currently are working on our Open Superior in HUS (we're almost there). I also have watched Madison carry my sister, Emily thru Walk Trot. They pointed out of Novice Youth HUS in the first few months of showing. As a threesome, we have accumulated too many circuit awards to list. Our special accomplishments include qualifying nationally for the Youth World in HUS for 2005 and 2006. We're going to make it to the Finals this year!
Today at 7 years old, she is the most beautiful white gray mare I have ever seen. She has a big beautiful sweepy trot and a nice comfy canter. Madison is a horse that I will never ever sell. When I am done showing, she can just relax in a nice big field with lots of grass. She has been my best friend and a great partner. Madison has taught my sister, Emily, and I how to have the competitive edge in the show pen. You can pull into the horse show grounds, unload her, go show and do well. She loves to go to horse shows and doesn't spook while in the pen. When we line up at the end of the class, she patiently waits to hear her number called. I think she has it memorized. We normally use the same one for good luck. I can feel her get ready to go for her prize when she hears 785 being called!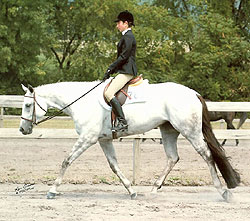 A few years ago my family was lucky enough to purchase another "Blue". His name is "Do The Blue" or "Harley". Harley is like a big puppy dog and all he wants to do is please us. I don't think there's a mean bone in his body. Harley is 5 years old this year. He is just as handsome as Madison is beautiful. He is just as kind and gentle. It's funny how they seem to have the same expressions. They both love to show off. He has the most awesome trot, and he just hangs his head. Harley was supposed to be my 14-18 youth horse and Madison was supposed to be passed down to my younger sister, Emily. But, I was too attached to Madison. So now Emily and I share our horses. Harley has been my Junior HUS and Hunter Hack horse, while Madison is my Senior and Youth HUS horse.
We owe a great deal of thanks to one of our trainers, Jeff Elthorp of Mohawk, NY. He helped get Harley ready for my sister Emily to show in 13 under HUS and Equitation last year. Jeff only had Harley a few months and by June, he thought that it was time for Emily to step up to the plate and started showing. Jeff also taught Harley how to jump. So of course, I added Hunter Hack to my showing schedule. Harley really loves to jump and so do I.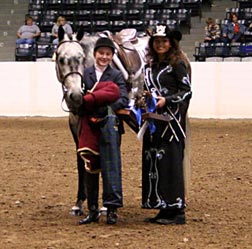 Emily and Harley did really good together right from the start. The won just about every class they showed. They accumulated circuit awards everywhere they went. Emily earned her youth ROM in a couple of weeks. In October 2005, Harley's attended his first Congress. We were excited when they place 6th in 11 and Under Equitation class. We raced down to Schneiders and bought the Top Ten Jacket. To our surprise, Harley and Emily had bigger and better plans. They came home with 2 blues from the Congress. They won the 11 and Under HUS and the NSBA. These wins were very special for me, because I was the one that prepared Harley for my sister. We went to the Congress without a trainer in 2005. We rode at the wee hours of the morning and night and did it together as a family. I must admit that Emily was gracious enough to hand me down the top ten jacket, but she kept the win jacket for herself.

At the end of 2005, Emily and Harley were listed in the top ten listings in the Justine Rookie of the Year. Not bad for a pair that had only been showing together since June. I don't know how they can top the year that they had last year. Emily would like to get her Superior in HUS with Harley and I want to continue to accumulate points over the jumps.
These two horses are irreplaceable, they will have a home with us forever. I think that once you ride a "Blue" that nothing else will do! I know that I will never show anything but a Skys Blue Boy. They are my favorite and nothing else has the trot that they do. Someday I would like to breed Madison (for my amateur horse). But for now, we'll just continue to show our Blue Boys and have fun.
Thank you Linda for such wonderful horses!
---
Skys Code Blue and Erin Lubeshkoff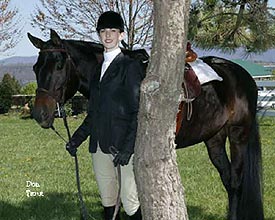 I sometimes think I might be the luckiest girl in the world. I have been in constant pursuit of the Youth World Show since I first began riding Quarter Horses. I almost had my chance to go last year, but my horse at the time tripped and injured his hind leg at East Coast Championship Show. My dreams came crashing down as he remained lame through the summer, and it became clear that we wouldn't be able to compete in August. After this happened I was discouraged and a bit depressed. I thought there was no hope of reaching my goal. My parents wouldn't let my dreams escape me and so we began the hunt for another horse. When I first saw Skys Code Blue ("Codie") on video, I couldn't believe how beautiful she was and how well she moved. She had the most awesome canter; it was without a doubt the nicest I had ever seen. My trainer Connie Christopher and I flew up to Ohio to try her out. From the moment we got there, I had a great feeling about her and couldn't wait to hear her story.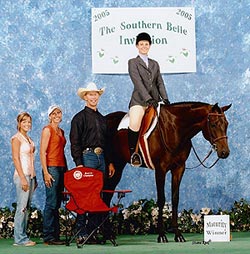 Her owner, Theresa Logan told us all about how Codie came into her life. She saw Codie's father Skys Blue Boy being ridden during the middle of the night one year at Congress. She said "he knocked my socks off" and decided right then that if she couldn't buy him, she would make her own horse just like him. Codie is the result of Theresa's 3:00am Congress decision to own a horse as nice as Skys Blue Boy. "I can remember the first time I chased Codie around in the round pen. She took my breath away! I thought I was crazy, but I had never before seen such a good loper." At their first horse show, Theresa and Codie won a Championship in the Lunge Line class at the Ohio Futurity and placed first under all three judges. Theresa knew then what a great horse she had. During the next few years Theresa was busy with other priorities and Codie was not shown but given time to grow. Codie began her JR HUS show career as a 4 year old with Heidi Piper. They accumulated 36 HUS points, earned Multiple Circuit Championships and qualified for the 2005 World Show with limited showing. In May of the next year, Theresa sent Codie to Kenny Lakins and Ashley Taylor to finish her superior HUS. While being shown by Ashley, she won the Limited Maturity HUS at the Tom Powers Futurity and Reserve Champion at the Southern Belle Futurity. At the 2005 Congress they place third in the Limited HUS Maturity and sixth in the Open HUS Maturity. Codie and Ashley ended 2005 by placing 7th in Jr. HUS at the AQHA World Championship show. Over the years Codie has won or placed well in numerous futurities earning over $15,000.00. For the year 2005 she was awarded the NSBA Reserve Champion Maturity Limited HUS Champion.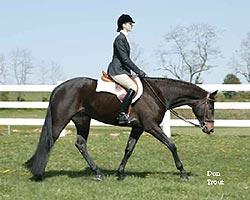 I feel so fortunate that we made that trip to Ohio that day - I just knew that Codie and I would make a great team. Theresa said deciding to sell her was the hardest decision she has ever made, and I'm not surprised. In just the two months that I've owned her, Codie has proven herself over and over again. So far we have been to three show circuits and have earned a total of 34 points in 14-18 HUS, Senior HUS and 14-18 HSE. As an added surprise, we recently found out that we are currently the AQHA National Leaders in the Limited Youth Rider Skill Set G. I'm just blown away at how well Codie is doing and so excited about what's to come. She is so athletic -- I believe she can do almost anything we ask of her. Just the other day I was lunging her in a ring that still had the cone and pole set up from a western riding class. Instead of avoiding the cone, she chose to jump it. I was awed by how beautifully she rounded and lifted her body over the cone. She definitely convinced me that Hunter Hack is in her future! This year I plan to concentrate on showing HUS, HSE, and Horsemanship. Next year I hope to achieve Codie's Superior in Youth HUS and nationally qualify for the Youth World Show in HUS. I'm looking forward to our trip to the Youth World Show later this year where I will be representing the Virginia Youth Team in HUS and HSE. Thanks to my parents, lots of hard work and an amazing horse, I will finally get to realize my dream. Making dreams come true seems to be a specialty of this wonderful mare, and I feel so privileged to be able to own and show Skys Code Blue.
---
Royality In Blue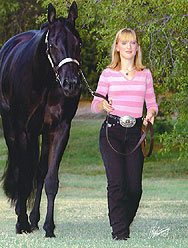 Royality In Blue AKA "Bentley" and what a ride he has been, big, black, and shiny. I knew as soon as I saw him he was more than just a horse. He was the partner that I looking for to help me conquer the fence classes, as well as the HUS and equitation classes.

My first year with Bentley we started out slow and only showed HUS. We were very successful but we were both ready for more. Laine DeBoer took us under wing and taught us both about the fence classes. Through plenty of practice and hard work, we finally accomplished our goal and started showing over fences classes. Bentley and I both love the fence classes and the challenge the present. Bentley also believes he is Royality, he gets upset if he doesn't get his way about certain things like his nap and turn out times. I have sat on Bentley while he is napping, trying to get him to get up, he will just lay there. His breeders Ray and Linda Monaco, also mentioned that as a baby he napped when he wanted to and didn't get up until he was good and ready to.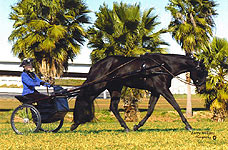 Bentley seems to enjoy traveling to different shows. As soon as he sees the trailer getting loaded, he is all eyes on the driveway and does a lot of talking until he is loaded. He loves it when we put his window down at gas station breaks. He talks to everyone he sees, especially little kids. He loves it when they come up to the trailer to pet him. Bentley will stretch his head as far down as possible and gets quiet, while they scratch his nose.

We go to quite a few shows with Sue Ellen Vickery. She works with both of us to break down, understand, and fine tune the pieces of the patterns, so that our end product can be outstanding. Bentley is so athletic, he seems to enjoy taking on any challenge set before him.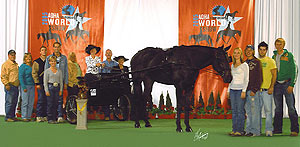 This year we have been successful at finishing our fifth Superior and also received our Supreme Championship. I hate to say it, but my mom borrows my horse for Pleasure Driving and they both love it. They have had much success including a 3rd place in the Amateur Pleasure Driving at the World Show in 2005, Bentley was also 3rd in the Open Sr. Pleasure Driving. At the Youth World we were Reserve Champion in the Hunter Hack.

---
A Star In The Sky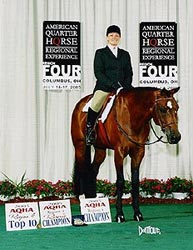 After taking a year off of showing due to my horse falling very ill, I NEEDED to get back into the saddle. Spring was approaching and I had not even started my horse hunt. I received a phone call from my trainer, Lisa Mathews that said she had heard of a mare that she wanted me to look at. We drove up to Pennsylvania and there stood a little bay mare just as out of shape as me. I had the chance to play around with her and I realized then that I had a lot of hard work in front of me especially because I was not a youth anymore. My parents, trainer and I talked about me getting back to showing and how the past year where I did not show was terribly depressing and I could not go through another year like that. During that depressing year with my other horse I did not ride, I gained a lot of weight and almost said that I didn't want to do it anymore. But when I had the chance to ride this mare, Daisy, she gave me that encouragement and hope that I had been looking for to get myself back in the saddle.
We brought her to my trainer's house in April 2005 where I would drive from school as often as I could to ride and work her. I was so excited that I had something to work towards and set goals with. As Daisy and I were both out of shape, we worked very hard together and got to know each other day in and day out. After our first horse show, we brought her back home to our barn, in Perry, Ohio, where we got to know this cute little mare a little better. This little cute mare made herself at home and showed us her real true personality. She became such a diva and such a riot to work around!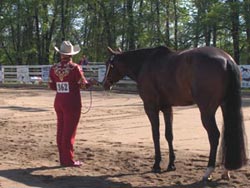 She had a personality that had everyone laughing all of the time, which by then we had given her the nickname 'Shedaisy'.
I fell in love with her and my trainer, parents and friends would laugh and say that Shedaisy and I were like two peas in a pod, identical and unstoppable. I had found my true match and we understood each other and worked so well together. Almost every ride I had and still have on her she has me laughing. She is such a unique individual that I am so glad and proud to say that she is mine. Throughout our working together, not only did this horse become such a close part of me and my horse family, she gave me something that I couldn't even give myself, or my friends or family. Shedaisy gave me the hope, courage and support to bring me out of my depressed state and I ended up loosing the weight that I had put on plus some more. Shedaisy gave me a new look on myself and my life. I seriously could not have done it with out her and the support I received from my trainer, parents and friends. I have Shedaisy to thank for bringing back the fun into my life and putting me back into the saddle.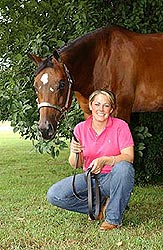 That summer we had an extremely exciting adventure. We love to execute patterns in the showmanship and you can always see us practicing our equitation and horsemanship patterns. I love to float around the ring during the Hunter Under Saddle and we even throw in a couple of pleasure classes for fun last year! At our Region 4 Show in Columbus we received the Champion belt buckle for the Novice Amateur Equitation, Reserve Champion Amateur Equitation and Top Ten in the Novice Amateur Hunter Under Saddle. We received 4 All Arounds, our Amateur Performance Register of Merit and other great accomplishments that we reached together.
Today Shedaisy and I are still setting goals for our future and having a great time. She makes me laugh and she is definitely one of a kind.
---
Robyn Adams and Im Blue Pepperanne
I actually consider myself lucky to have ended up with Pepper. I was just getting back into AQHA after riding the hunter circuit for many years and did not know a lot about quarter horses…my husband, John and I had stopped at the Memorial Day show in May 2002, on our way to pick up a broodmare in Vero, Florida. It was there that I saw an ad for a nice black HUS mare so I called and made arrangements to see her. That mare was stabled at Bob and Betsy McDonalds in Tampa along with some of their babies. They showed us the black mare, but in another paddock I saw this beautiful grey (yes she actually was grey once) filly trotting around and asked about her. Well by the time it was over, I owned an unbroken almost 2 yr. old named Pepperanne and not the black horse.
I broke Pepper myself but her wonderful HUS foundation came from Terry Angelo and David Alenik. It was under their guidance that we won our first circuit champion, our first time out at Memorial Day show exactly one year later. They took us to our first congress and David says he still has scars on his behind from all the time he spent getting her ready for me. We still joke about me being the only one brave enough (or stupid) to ride a 3 yr. old in novice HUS their first time at congress. I will have to say it is one of my best memories. my first congress, my only class, a 3year old, three splits later and I walked out with a finalists ribbon…to that I say thank –you Terry and David…
Pepper's jumping began while I had her home for her down time between show seasons. I like to see what talent the young ones have before shipping them off, so I lunge them over jumps and video them over small cossrails…well Pepper was amazing she would use her shoulder and knees and be a perfect lady to the jumps and after. I didn't waste any time I made arrangements with sandy Vaughn and off she went…during her stay with sandy she continued to be everything I dreamed…we were rewarded with 2 reserve champions at congress and at our first world show she walked away with 2 bronze trophies. Sandy also ended up 9 and 10 in the year-end standings and I did not even know it until I received the certificates in the mail! Once again, I brought her home after world for her vacation and to plan the next year. During this time, I began to realize how special this horse was to me, and I knew if anything happened to her, I could not replace her. There was only one answer…it was time to breed her. John and I talked about it and decided we could not stop showing her so we decided to try embryo transfer. Pepper always gives me her all and this was no different…she caught on the first try and I now have not 1 but 2 "little Peppers".
We went back to Terry and David for a tune up and while I was there, they were talking about going to Horseheads, NY.
I wanted to go but I needed someone for the jumping and once again, they took care of us by arranging for Alfred Hewitt to school me and show pepper. Alfred has always liked the Sky's Blue Boys and Peppers jumping really improved under his guidance. (I was a different story, but instead of more "spur" he patiently brought me along too.) He easily qualified her in Jr. Hunter hack and at the 2004 world show, they won bronze. This past year has been a whole lot of fun and pepper just keeps taking care of me and amazing me. We were at the Fla. Gold coast show and my daughter Tayler, who was 9 at the time, wanted to show. We decided to put Pepper to the test. She was circuit champion in small fry at gold coast, and Pepper never took a wrong step with her. Small fry did not last long because Alfred moved her up to novice youth after east coast show. Pepper's 2005 year has ended great

We have accomplished more than I had ever wished. This year's congress Alfred earned a reserve champion in Sr hunter hack. I never really realized what a difference there is when you show in the senior division until I went to world this year. Watching the finals in senior hunter hack (and even the prelims) I realized that Pepper was competing against some of the most amazing horses in the industry. This made our 3rd. place even more incredible. Some of these horses have been great for a long time and I felt honored that Pepper was in the finals with them. Our first place in the senior hunter hack and open hunter hack for the year-end award was not planned. I didn't even know we were a contender until Alfred told me in July that he thought we had a good chance to win. She is always so reliable and performs so well for Alfred that it wasn't hard to do.
I've always heard that your lucky if you own one great horse in a lifetime and I've been blessed with two. The first was my quarter gelding which until this past week I had owned for 27 years. Many years and horses later came IM BLUE PEPPERANNE and although I have had many offers for her, my love for this mare is stronger than money. I am a strong advocate for Skys Blue Boy and his offspring. I currently have 4 yearlings with his bloodline and I can't wait 'til they're ready to show!
---
Kyle Kellogg and Whats New in Blue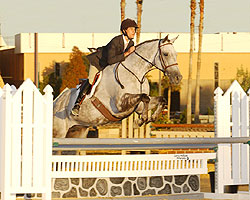 The first week of December 2004, 14-year-old Kyle Kellogg, his mother Shannon and trainer Andy Moorman left sunny Florida for snowy Grand Rapids, Michigan to meet and let Kyle ride Whats New in Blue better known as Wilbur. Andy had approached David Warner at the World Show and he told her about Wilbur, a big, quiet five-year-old Skys Blue Boy baby. After a few calls and viewing the 2003 Congress video of Wilbur where he placed third in Green and third in Junior Working Hunter, the plane tickets were purchased.

Despite freezing temperatures and coming out of the stall cold to ride with no longing, Wilbur was just as David described – quiet. Jumping for the first time in a small confined space was a challenge for Kyle who still had at least a year remaining in Novice Youth over fences but Wilbur saved him time and time again. Arriving at the barn early the next day to ride before the flight to Florida, Wilbur was once again quiet and forgiving of Kyle's mistakes. Andy and Kyle were sold before leaving Michigan but Kyle's mother was less sure because up to that point they had just looked at older, more experienced horses. Putting a Novice Youth on a 17.1 + hand five-year-old was not what she had in mind. But Andy and Kyle were so convinced, they arranged with David to have Wilbur brought down for the Gold Coast circuit for Kyle to ride in a show setting.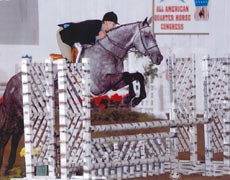 Before the end of the first week of Gold Coast, Kyle was the proud new owner of Whats New in Blue. Under trainer Cindy Reddish's guidance, they had a wonderful first year together accumulating a total of 65 Youth points while continuing to show in many shows in both Novice Youth and Youth. They have qualified for the 2006 AQHYA World show in Youth Equitation Over Fences, Youth Working Hunter and Youth Hunter Hack and have won 11 Circuit Championships. Any doubts that Kyle's mother may have had have long since disappeared. She describes Wilbur as a kind, quiet, forgiving, rock solid, Youth horse superstar. She sees the success they had together this first year as Kyle progressed over fences as just a bonus.
Kyle thoroughly enjoys people coming up to him at the shows and recognizing Wilbur as a Skys Blue Boy baby. He bears a strong resemblance to his sire. Kyle's biggest complaint about Wilbur is that whenever they make a mistake, his trainer Cindy Reddish, immediately shouts out, "Don't get mad at him, it's not his fault." His response, "I know, it's never his fault." So far it hasn't been. Kyle, his family and Cindy Reddish are thrilled to have Wilbur.
Ray and Linda Monaco
63 French Hill Dr.
Prosperity, PA 15329
Email: skysblueboy@cobweb.net
Phone: (724) 228-8324 Fax: (724) 228-8740


Click here to view our links